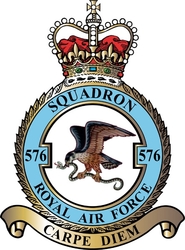 576 Squadron crest: Sieze The Moment.
576 Squadron was a hostilities only squadron formed at Elsham Wolds in October 1944.
Like many war-only squadrons, the aircrews were made up of many commonwealth airmen who came to us in our darkest hour.
They operated only one type of aircraft-the Lancaster and begun operations from Fiskerton in November 1944 for number 1 group.
They attacked all the major enemy targets including Berlin, Berchesgarten( the last raid of the war on the die-hard Nazi stronghold)
and took part in Operation Manna-the dropping of provisions to starving Dutch civilians.
Like 49 Squadron, they flew on the night of the 6th Of June 1944 in support of the D-Day landings.
Their total wartime losses were 75 Lancasters. Like most of Bomber Command's squadrons,
some of their losses occurred in the final few days of the war.

Disbanded at Fiskerton in September 1945.