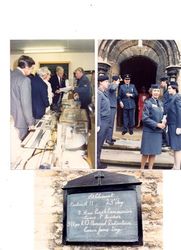 ROYAL OBSERVER CORP REUNION, DATE AND PERSONS UNKNOWN.
THIS BRANCH OF THE ARMED FORCES MANNED THE COLD-WAR
OBSERVATION POSTS IN THE EVENT OF W.W.3 STARTING.
Top church image L to R: Canon James Day-a former Bomber Command Pathfinder, Tom Gatfield-49 Sqn Assn Secretaty, Don Caldwell-576 Sqn Australian Ass. Eric Norman-576 Sqn
Bottom Image Top row L to R: Charles Parker- ROC, Bob Walkington-Church Warden, Unknown, Unknown.
Front row L to R: Unknown, Fred Woods ex 49 Sqn rear gunner and Fiskerton resident, Freda Styles ROC.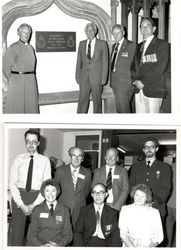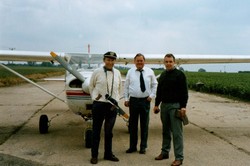 August 1990 and in the photo left to right are:
Arthur Whitlock, Johnny Moss (ex 49 Pilot)
and John Ward ,49 Sqn Assn holding a Lancaster exhaust stub.
This occasion is believed to be the last time an
aircraft landed at Fiskerton.
The cesna is parked on runway 031-013.