Thank you for visiting this site. If you have any questions, suggestions, or criticisms please contact me.
If anyone has images, a story or information about former crews or the airfield itself,
would you please consider contacting us with a view to placing such material on this
website and therefore ensuring that this website can grow and also that the memory
and the exploits of those who were there during the conflict will be on display for all
time and not be allowed to fade into history. Credit to the sender will naturally be given.
PLEASE CONTACT THE WEBMASTERS VIA THE E-MAIL ADDRESSES ON RAF FISKERTON
HOME PAGE.
Thank you for visiting this website.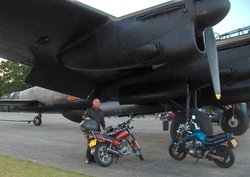 LINKS TO SIMILAR SITES:
LINCOLNSHIRE AVIATION HERITAGE CENTRE, EAST KIRKBY.
http://www.lincsaviation.co.uk
http://www.fiskerton-lincs.org.uk/
LARRY'S LANCASTER FORUM/WEBSITE
http://www.lancaster-archive.com/
DATABASE ON FISKERTON LOSSES SUPPLIED BY WILLI WEISS FROM OBERAUSSEM,GERMANY
http://baseportal.de/cgi-bin/baseportal.pl?htx=/Willi_Weiss/Fiskerton
BATTLE of BRITAIN MEMORIAL FLIGHT,CONINGSBY:
http://www.bbmf.co.uk
For more information on the RAF in Lincolnshire see:
http://raf-lincolnshire.info/index.htm
Bob Baxter's excellent site.
http://www.bomber-command.info/
The Nanton Lancaster Museum, Canada.
http://www.lancastermuseum.ca/
Remembering the past-Airfields and Aviation Memorials, researching old airfields and aviation memorials of the U.K. By Richard E. Flagg.
Air of Authority - A History of RAF Organisation
http://www.rafweb.org
49 SQUADRON WEBSITE.
http://www.49squadron.co.uk/home
576 SQUADRON WEBSITE.
an excellent 576 association website.