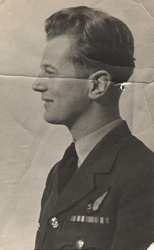 Frank Wilson was born on Christmas day 1922 in Upholland, near Wigan in Greater Manchester.
He attended Ormskirk Grammar School where he captained the school rugby team in his final year.
He joined the RAFVR as an Aircraftsman in August 1941. Following a number of training courses and postings in the UK
he was sent to Canada to train under the British Commonwealth Air Training Plan.
On returning to the UK in 1943 as a trained Wireless Operator and Air Gunner he was commissioned into the RAF
as a Pilot Officer in Dec of that year. In June 1944 he was promoted to Flying Officer and posted to 576 Squadron
operating Lancasters out of RAF Fiskerton where he became a member of Flying Officer Herbert Benson's crew comprising:
F/O H Benson, P/O H Woolstenhulme,
F/O H G Mather,
F/O P C Milner, F/O Frank Wilson,
Sgt R C Griffiths,
Sgt R Goldsbury.
This crew completed a total of 9 bombing missions to various targets within Germany during November 1944 to January 1945.
In January 1945 the crew were moved to Pathfinders 156 Squadron operating out of RAF Warboy, and then RAF Upwood.
P/O H Benson's crew flew a further 7 missions to targets in Germany, the 7th being to Nurnberg on 16th March 1945.
On this mission they were attacked by a Luftwaffe ME 410 fighter and F/O H G Mather, F/O P C Milner, F/O Frank Wilson, Sgt R C Griffiths suffered injuries.
The aircraft made it back to base and the injured airmen were sent to the RAF hospital in Ely.
As a result of their injuries F/O H G Mather, F/O P C Milner, F/O Frank Wilson, Sgt R C Griffiths were replaced in P/O Benson's crew for the next fateful mission
to Hamburg on 31st March 1945 where the aircraft was shot down with the loss of all crew.
Frank Wilson had flown 16 successful missions with P/O Benson and was undoubtedly affected by the sad loss of the colleagues and friends that he had been through so much with.
While receiving treatment at RAF Ely Frank Wilson met his future wife, an RAF nurse, Jean Ellis.
He never returned to flying operations and spent the rest of his RAF service in a number of ground based, administrative roles before leaving the service in June 1948.
In civilian life he became a Customs and Excise Officer initially at Manchester Airport and then at the port of Goole in East Yorkshire.
He died in February 1988 and is survived by 4 sons, one of whom also served in the RAF, and 2 daughters.