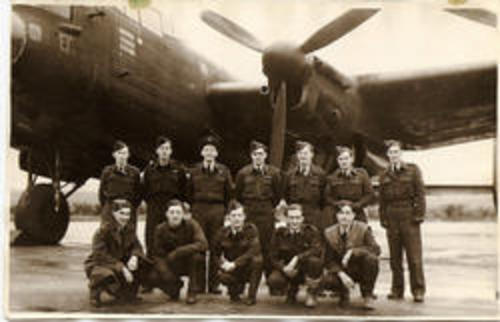 This image of flight and ground crew was taken at Elsham Wolds before the squadron move to
Fiskerton in 1944.
A mixed-nationality crew, they are left to right as follows:
Paul Wrightman - Flight Engineer - Sgt - England.
Neil Donovan - Wireless Op - W/O - Australia.
William Carland Johnston - Bomb Aimer - F/O - canada.
Mickey masters - Pilot- S/L - England.
Jeff French - Navigator - Sgt - England.
Smudge Smith - Mid Upper Gunner - sgt - England.
Jock Smart - Rear Gunner - F/Sgt - England.
Unfortunately, the names of the ground crew on the front row are not available.
This crew transferred with 576 Sqn to Fiskerton in October1944, flying their first op from Fiskerton on 9th Nov.1944
and remained there until the end of hostilities.