The information on this page was supplied by Alex Lynn-the son of a former 576 Sqn. Wireless Operator who flew from Fiskerton in the final few weeks of the war.
Sgt Lynn flew from Fiskerton as wireless op for the second-tour and highly experienced pilot S/L Bradbury. He took part on several raids in the closing days of the war including the "Manna" and repatriation ops.
PAGE UNDER CONSTRUCTION. MORE INFORMATION/IMAGES TO FOLLOW.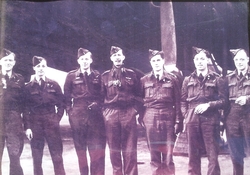 Sgt Lynn is 2nd from left, other crew members were: S/Ldr. Bradbury, F/O Scott, Sgt. Botham, F/O Turner, P/O DuFue, Sgt. McKenhic, Sgt. McLean.
.